Today I am going to highlight a few great orchards and pumpkin patch farms around our area so if you're local you can have a heads up on some great places to go this fall. Carmel apples + hay rack rides are a must, of course. Enjoy!
photocredit
Roca Berry Farm
is one of my favorites since I was a small child. Just south of Lincoln, this farm is directed more at families with small children. I'm pretty sure the farm (also of
Strawberry pickin' fame
) has had the same props since I was a tot back in the late 80s and early 90s. Yeah, it's kitschy. It's also a very low-key and someplace where you don't have to worry about losing your little one in big crowds. Very friendly service in the past and unique things to do like a crazy half-tractor, half-go-cart race. Pony rides available and a fun tractor ride.
photocredit
I've never been to
Martin's Hillside Orchard
in Ceresco, Nebraska, but apparently it's also an apple + fruit orchard, even with raspberry bushes to pick from! I may have to take the family here if any one is up for it. We all know I'm up for anything fall. Ceresco is about a 30 minute drive from Lincoln and a friend told me about this place. She said it was very fun and family friendly, and no admission charge if you spend $3 on items (jams, pumpkins, fruit, etc.).
photocredit
Whoa, big kids, teenagers, and lovers of Halloween, go to
Vala's Pumpkin Patch
but if you go on a weekend expect long lines and tons of people. This is the biggest and probably most well-known pumpkin patch/haunted house in the Southeast region of the state. There's reason, too, as their food is delicious and there is an endless amount of Halloween or fall-related things to do here. Corn maze. Family games. Pig races. Bonfires. Fake pirates singing. Bunnies in a small village (don't ask, it's cute!). Haunted houses. Hay rack rides for daytime & nighttime. Pumpkin picking. LOTS of kettle corn.
Um, do I need to go on?
If you haven't experienced Vala's you haven't experienced the quintessential Nebraska autumn. It's quite expensive but you can usually find good coupon deals online (Google "coupon code Vala's Pumpkin Patch") and if you have small children go during the day. If you have to go on the weekend, go early! And for heaven's sake, don't forget to get a an order of their wonderful potato curls...I'm just drooling thinking about it.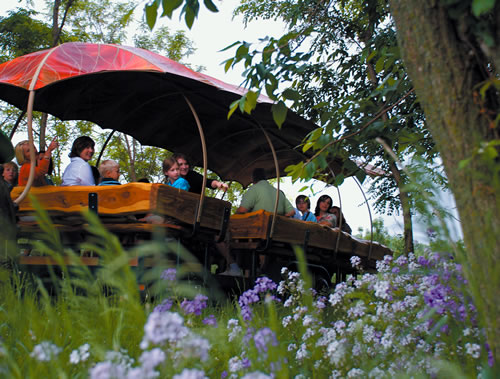 photocredit
By know you should all know my love for Nebraska City and the wonderful Tree Adventure, but if you're in the mood for some actual apple picking, head to
Arbor Day Farm
and get some delicious fruit. The above picture is the actual 'tractor ride' you can go on through the orchards and tour the entire farm, and yes, it is that pretty out there. A friend and I, and our kids just took their actual hike the last time we were there and we were a-mazed at the beautiful trail, bridges, and fun 'stations' they have set up. It's a good hour walk with small kids but totally worth it. Don't forget to grab a few of their caramel apples. They practically rip your teeth out with their inch layer of brown sugary sweetness. Um, yum.
my photo of kids at Kimmel Orchard
Here is a picture of our recent trip to Kimmel Orchard, just outside of Nebraska City. They have just about every type of apple and summer fruit growing to pick, but of course right now it's basically all apples. Remember to bring a bag of your own since their bags rip (ugh.) easily. Here's a delicious apple crisp recipe I highly recommend after spending the morning grabbing delicious baskets of apples!
Do you have any other local orchards or farms to contribute? Leave them in the comments for us!