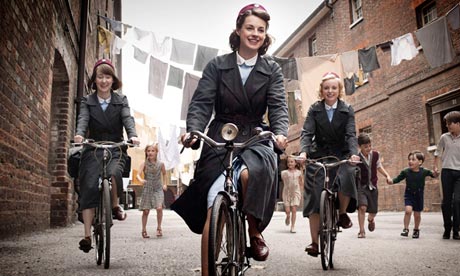 photocredit
All I'm going to talk about today, is why you should be watching
Call the Midwife
.
Call the Midwife is another BBC drama series that you can watch on pbs.org, with 55 minute episodes, and only 6-7 per season. I fell in love after episode 1 and watched all of Season 1 and part of Season 2 in just two days. I've always had a thing for
historical fiction
, but tell me it's a true story and I'm almost guaranteed to love it. This is one of the only shows I've watched in my life-time where I find myself tearing up or crying (ugly-crying at that) with every episode. Sometimes out of sadness, sometimes out of encouragement and the hope it shows.
***
The story revolves around a group of community nurse-midwives and an order of nuns who share a home called Nonnatus House, and care for the poor community of Poplar in post-WWII England. Each character on the show is not only charming, but sincere and gentle (in their own, sometimes blunt ways) in caring for all types of difficult situations. These women truly care for the families they are helping, and the acting is really well done. The external and narrational dialogue is good, too.
In every episode, there is a main story of a baby being born, and that includes a subplot of what that family's challenges, relationship, and triumphs are. Alongside that are the main characters' (the nuns and the midwives themselves) own personal struggles, life changes, and development. You grow to love all the nuns and the midwives for their personalities as well as their aid to the community. They all love the women and children they serve, even though some have to overcome huge mental limits and social norms to get there.
There aren't many shows on tv with characters that are worth rooting for. Admit it, just glancing at hulu.com or netflix, all I see are tv characters that are greedy, manipulative, naive, or just plain annoying and stupid. These women, nuns or nurse, don't consider social status, race, or religion;
they're the helpers
. Even better, it actually happened. In a time and place where there are school shootings, massive natural disasters, explosions, and death all over the news,
this is a refreshing and much needed hopeful expression of care and life's fragility
-at the beginning, middle, and end.
These women, the ones who actually lived and held the experiences back in England in the 50's, are an inspiration. The characters on the tv show are just a representation of what patient care, and the Good Samaritan look like, and that is equally inspiring. Most honest to me, is how everyday life is held onto with a subtle undertone of faith (and not so subtle for the nuns) and perseverance through hard times for the characters and the families. There are episodes with seemingly unending tragedy, and at times, controversy, but the nuns and midwives press on to find solutions to medical emergencies, to give hope and kindness in poverty, sickness.
It's about life. Tragedy, hope, joy. It's about that.